Hydraulic Coilover Systems

2.5 & 3.0 Height Adjustable Systems Available
NEW! 2.5 Hydraulic Coilovers!

Slightly Smaller Size - Larger Range of Fitment
Never Sacrifice Ride Quality

Full Coilover Functionality, Regardless Of Ride Height
Compatible With Many Lift Kits

Works With Any Lift That Can Accomodate A Coilover Conversion
Don't Just "Go Big" - Go Bigger!

At The Press Of A Button Or With Your Phone
The Ultimate Upgrade

Stand Out From The Crowd!
Hydraulic Coilover Systems
2.5 & 3.0 Height Adjustable Systems Available
NEW! 2.5 Hydraulic Coilovers!
Slightly Smaller Size - Larger Range of Fitment
Never Sacrifice Ride Quality
Full Coilover Functionality, Regardless Of Ride Height
Compatible With Many Lift Kits
Works With Any Lift That Can Accomodate A Coilover Conversion
Don't Just "Go Big" - Go Bigger!
At The Press Of A Button Or With Your Phone
The Ultimate Upgrade
Stand Out From The Crowd!
The Industry's First Hydraulic Coilover For Lifted Trucks!
Welcome to the SORD Performance Shocks website. This site is still under development, but we are doing regular updates!
SORD Hydraulic Coilovers can be mounted anywhere a normal coilover would mount, as long as lengths and clearances are checked due to these having a rather large body. Uses traditional 1.5" wide mounting tabs and 1/2" bolts to mount.
As of now, these are NOT application specific - Modification WILL be needed to make them work on any vehicle. However, that means these can fit anything you want them to, with the proper suspension modifications. These are not limited to certain model trucks - Anything you can dream of putting them on is a candidate!
If you have any questions, or are interested in purchasing our performance shocks products, please feel free to contact us at sales@sordshocks.com - We look forward to hearing from you!
High-Quality Design & Features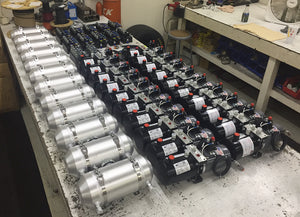 Precision Manufacturing
SORD Shocks components are built at a world-class hydraulics manufacturer, and hand-assembled at our facility.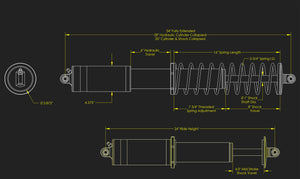 Meticulously Designed & Engineered
Every part of the SORD Shocks Hydraulic Coilover System has been engineered to be the highest quality possible.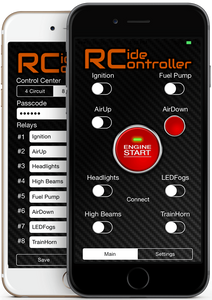 Compatible w/ Ride Controller
All SORD Shocks Hydraulic Coilover Systems are compatible with Ride Controller, and other similar systems, or can be hard-wired to a switch in your cab.